"My name is Rosette..
I was born in a village called Kamahuri, in the South-West of Uganda. When I was young, my parents passed away shortly after each other. In those days I lived with various relatives and obtaining schoolfees was always a problem. When I was fourteen years I met Stefanie from The Netherlands. With her support I was able to go to school and get my college degree in business administration. Nowadays I have a job at a travel agency in the capital Kampala. I would love to help my nieces, nephews and other children from my home-town, so that they can -just like I did- go to school and develop themselves. This is the driver behind our "Foundation Auntie Rosette".
Our mission
The Foundation Auntie Rosette aims to send as many children as possible to school. For 20 € per month a child in the village can go to school and receive basic facilities like food and clothing.
Would you like to help us?
100% of your donation reaches these children. Any overhead of the foundation is sponsored.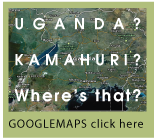 Donations can be made here:
Triodos Bank account
IBAN: NL75 TRIO 0254 6992 51
att: Stichting Auntie Rosette in Noordwijk (NL).
Or using the online donation here above.
Would you like to read the entire story of Stefanie en Rosette? Download PDF here (Dutch).